What's new in this release?
Thanks for the great ideas and feedback you provide to the Dazychain team. We're genuinely delighted to hear from you and we invite you to call or email anytime. We're continuing to develop and grow Dazychain in response to your feedback. In this release you'll see some big changes:
New ways to be notified: please update your notification preferences now in Settings/My notifications
New ways to view your work: Folder view and Grid view in the Projects menu
New ways to file your emails automatically in Dazychain: the Dazychain Outlook integration
New tool for Organisational Administrators: delete projects
Notifications
Following your feedback, we've changed Dazychain notifications. Please update your preferences now:
To update your notifications, click on the 'Settings' menu, then 'My notifications'
Notifications now include complete comments and document names to give you more detailed information
You can also elect to receive reminders before deliverables are due, and if deliverables are not complete by the due date
We recommend keeping all Dazychain notifications switched on, and as a minimum, enabling emails from Dazychain for comments and documents.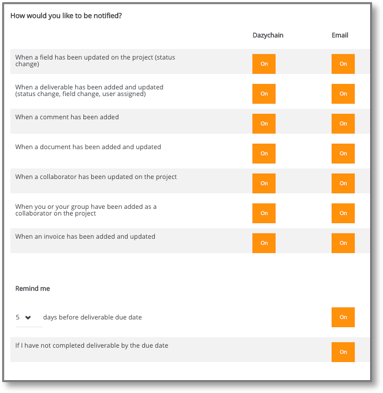 Dazychain Outlook integration
Are you using IE 11+ with Windows 10+ and Office 365 or Outlook 2016? You can use the new Dazychain email integration. By clicking the Dazychain icon in your email you can:
Create a new Dazychain project and attach emails and documents to it
Send emails and attachments to current projects
If you would like to take advantage of this new functionality, please send a request to our Support Team, including your organisational administrator's name and contact details. We'll be in touch to help you install the 'widget'. Once the widget is installed you'll be ready to automate your emails!
New views: Folder and Grid view
The Folder view is a big new change for Dazychain. We created this change to enable the segmentation and grouping of projects. Please discuss your organisation's folder set up with your manager before adding any folders, as folders are organisation-wide and require some thought and planning.
Folder view enables you to set up a visual grouping and view of projects that relate to each other. You can now:
Create a folder view for your organisation that includes divisions, teams, states, key projects
Structure matters in a hierarchy
Create folders as 'project containers' keeping a range of projects together, then display a high-level list of folder contents and individual projects
Move individual and multiple projects at a time between folders: click on the green dots to make changes and selections
Drill down to see the project deliverables, and click straight through to the project
Create different working and access areas for different divisions, states, projects
Create or delete folders: click on the green dots to make changes and selections
Create projects: click on the green dots to make changes and selections
Transfer easily between grid view and folder view
Folder rules
Projects security is unchanged. To change project collaborators edit them directly either in the project collaborator tab of the project or in the new pane of the folder view when a project has been selected
Collaborators on root folders can only be altered by manually changing the collaborator list for that folder in the pane to the right. Any folder collaborator can do this.
Collaborators on child folders take on the collaborators of the root folder. They cannot be manually edited. Changing the root folders list will update the lists of all child folders no matter how deep. Note: this will not affect projects, just folders
Add or change collaborators on the root folder - you can't change collaborators on sub-folders
Sub-folders inherit their security and collaborator lists from the root folder
When you move a folder under another folder, you need to update the folder collaborators list to include new staff members
You can move projects between folders but you must add your desired new collaborators on the root folder to ensure the highest level of security and access
For organisational administrators: delete projects
New functionality for administrators includes the ability to delete projects. Only organisational administrators can delete projects. We suggest you only delete projects if this is completely necessary. Deleted projects cannot be restored. To delete a project:
Close the deliverables using the green action buttons on the top right of the deliverable tab in the project details screen
Close the project by clicking the 'Close' option in the green action buttons
Delete the project by clicking the 'Delete' option in the green action buttons