Project duplication is a useful new functionality. Projects can now be duplicated, and all comments, documents, deliverables and details will be copied. If this is an external project type, the supplier is removed, and you can select a new supplier:
Project will be named 'Copy of…' which can be edited

Project reverts to a created state

Supplier removed

Private supplier comments and documents are not copied

All external deliverables are returned to a created state

All internal deliverables will be are returned to an open state

All data entered in the template is retained

Templates are duplicated exactly as they appear in the current project

Only projects created by your organisation can be duplicated by you
This feature can also be used in the event you are updating your preferred suppliers with projects the are currently open, retaining all project data without the trouble of manually re-entering all the information.
To duplicate a project from the Project Summary:
Go to Projects and select the project you want to duplicate
Click on the green dots at the top right corner, and select Duplicate




A confirmation pop up will appear, click yes to continue




The new duplicated project will appear, titled 'Copy of....'
Project details, deliverables, comments, and documents that have been created or uploaded by your organisation have been copied over. Supplier owned deliverables, comments or documents do not get duplicated. 
Internal deliverables revert to a Created state, while external deliverables revert to an Open state. You can update and action these deliverables as normal. See Updating the status of deliverables.

To add a new supplier to a duplicated project:
Go to the duplicated project
Click on the green Select supplier button




The Search for organisations pop up will appear
Search for your supplier by name or click on the Invite organisation tab to send an invitation to your supplier
Begin working on your project. See Working on a project.
To duplicate a project from Folder View:
1. Go to Folder View and click on the project you want to duplicate
2. Three green dots will appear next to the project name. Click on those dots and select Duplicate project from the dropdown menu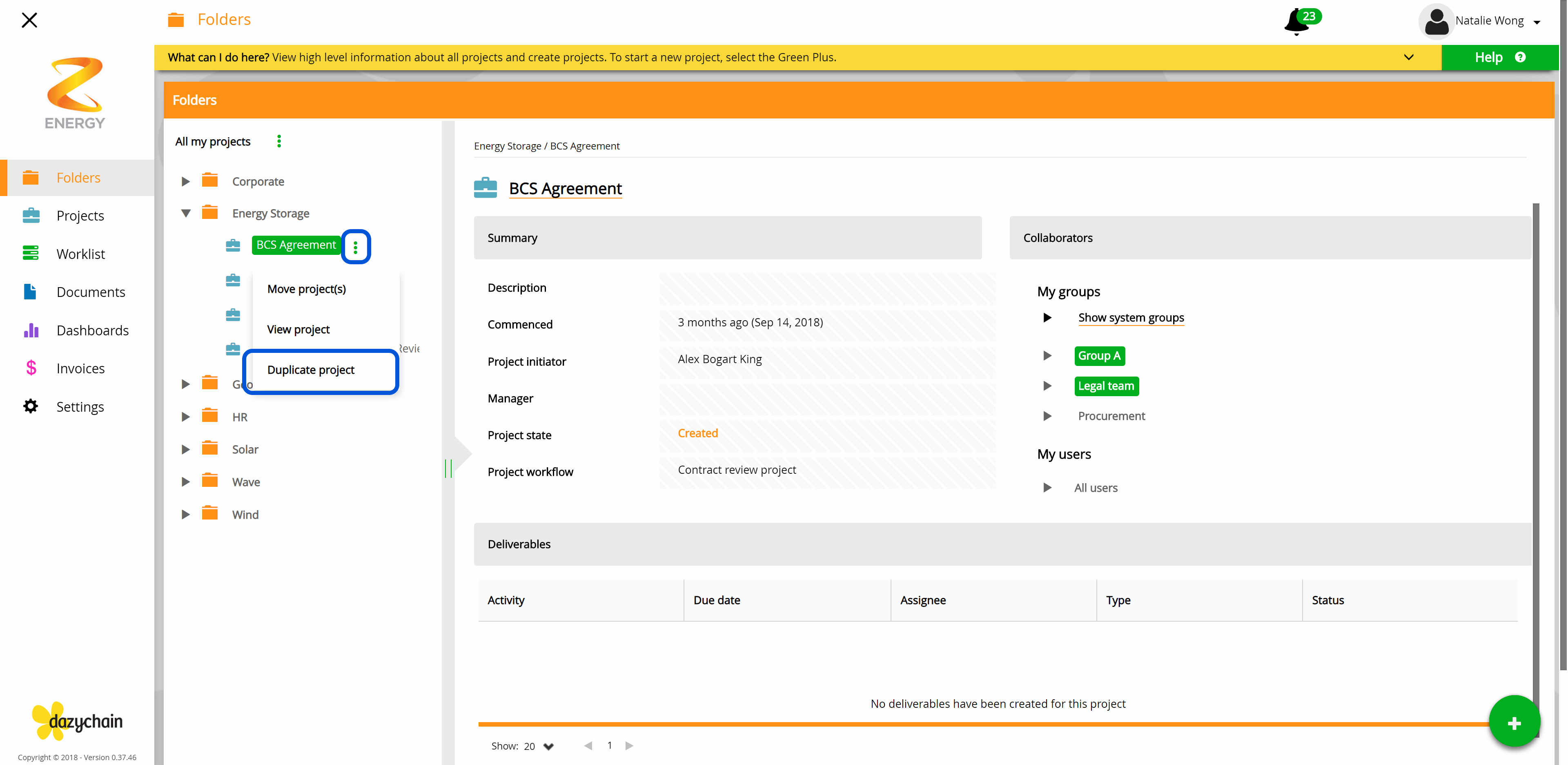 3. Click on the duplicated project name "Copy of..." to go to the Project Summary screen to enter matter details